We couldn't have imagined the Apple TV 4K getting this much better with a decent Siri remote. The Siri remote was launched last year and is best paired with the new powerful Apple TV Box. The new Apple TV 4K easily meets the demand for fast 4K streaming and high-definition (HDR) range formats. All these with much faster performance than the previous ones as it comes with an A15 Bionic chip and is much cheaper than the previous one too. The price dipped down to $129 from $179. A15 Bionic is the same chip that launched with iPhone 13 line-up and is still used in iPhone 14 base variants.
| | |
| --- | --- |
| Pros | Cons |
| A15 Bionic Chip | Ethernet comes with $149 model |
| Excellent Siri remote | Still expensive |
| Far cheaper than the previous one | No HDMI cable bundled |
| tvOS can handle multitasking | No find my remote feature |
| Larger app library | |
| More storage | |
| HDR10+ | |
Specs
The Apple TV 4K (2022) is on the top of all the streaming boxes. It is the best-performing streaming device and always has been. The previous one was powered with A12, still, that was the best-performing streaming device. Nobody complained about it being slow. With the price tag of $179, the previous Apple TV was not recommendable. This year's one is a bit expensive too but it has got a major upgrade and is worth buying. The HDR quality is at its best.
A15 Bionic keeps the device one of the fastest by loading apps 10 to 20 times faster than other streaming boxes available. Albeit it cost twice as much as the others.
| | | |
| --- | --- | --- |
| | Wi-Fi only | Wi-Fi + Ethernet |
| Resolution | 4K Ultra HD | 4K Ultra HD |
| Wireless connectivity | Wi-Fi 6 (802.11ax) with 2×2 MIMO, Bluetooth | Wi-Fi 6 (802.11ax) with 2×2 MIMO, Thread, Bluetooth |
| Audio | Dolby Atmos | Dolby Atmos |
| Video | Dolby Vision, HDR10+ | Dolby Vision, HDR10+ |
| Ports | HDMI out, power | HDMI out, power and Gigabit Ethernet |
| Dimensions | 3.7 x 3.7 x 1.2 inches | 3.7 x 3.7 x 1.2 inches |
| Remote | USB type-C, Siri | USB type-C, Siri |
| Colours | Black | Black |
| Price | $129 | $149 |
Suggested reading – Apple iPad 10th Generation (2022) Review: Performance, Features
Performance
The base variant comes with wi-fi only, no ethernet port is given. It comes with 64GB and costs $129. The second and top model comes with Wi-Fi+Ethernet, and 128GB storage and costs $149.
That's still expensive but the biggest upgrade compared to the previous model, which came with the A12 Bionic Chip. Apple claimed that this chip offers 50% faster CPU performance, 30% faster GPU performance, and 20% faster app load times compared to the 2021 model.
Time to load Apps (in seconds)
Apple TV 4K 2022
Apple TV 4K 2021
Amazon Fire TV Cube 2022
Roku Ultra 2022
Chromecast TV 4K
Roku Streaming Stick 4K
Netflix
4
4
14
10
17
17
Disney+
4
6
5
9
7
13
Youtube
2
3
4
6
6
13
HBO Max
7
9
5
8
7
9
Sling
12
13
14
8
19
9
Peacock
6
6
6
9
11
10
Spotify
3
4
7
9
3
11
Dead Cells
7
8
N/A
N/A
N/A
N/A
Pathless
18
20
N/A
N/A
N/A
N/A
Siri Remote
The Siri remote bundled with Apple TV 4K is similar to last year's model. The only difference you will see is the USB type-C instead of the lightning connector. The remote has a minimalistic design and ditched the widely-disliked touchpad interface.
The remote comes with directional buttons, which are below the power button. Below that is the 'back' and 'TV' buttons. The TV button can be mapped to the 'home' button. Then you have the play/pause button, mute, and volume controls.
The Siri button is slightly hidden. An elongated button on the side of the remote, marked microphone works as the Siri button.
Another interesting thing is the ecosystem. You can use your locked iPhone as the remote. Despite all these features, the 'Find My Remote' feature is missing, which comes with the Roku Ultra remote and the new Amazon Pro remote.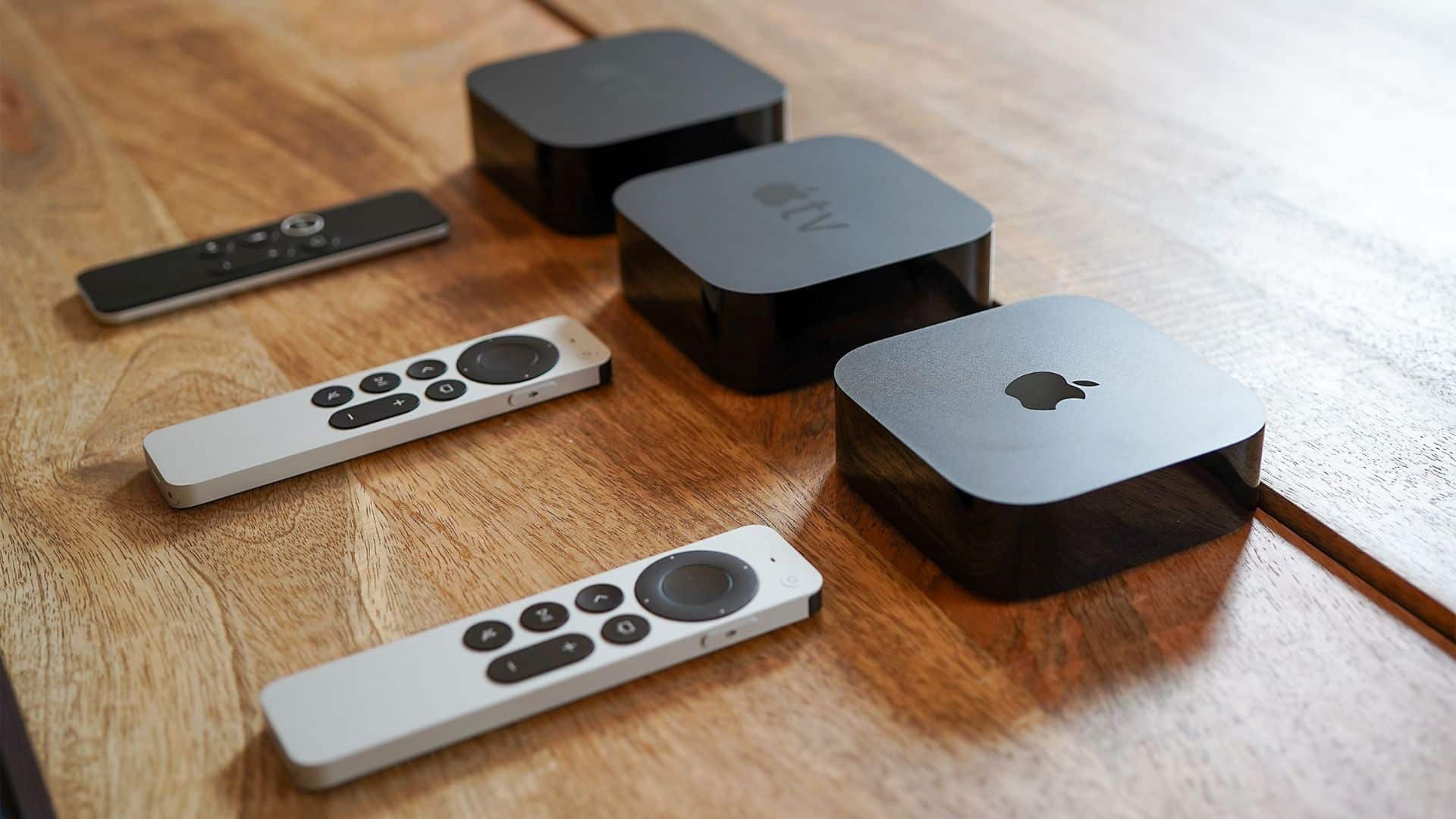 Interface
The tvOS is a much cleaner experience in terms of interface than the competitors. You will see the whole screen filled with app tiles. You can access 20 apps on the screen at once. While other competitors fill their home screen with recommendations and advertised content, then comes a few apps.
Games and Apps
The Apple TV 4K's app store is stockpiled with apps. You can access all the best streaming services like HBO Max, Hulu, Netflix, Sling, Peacock, etc. You can do an Apple Fitness Plus workout using your TV, and access your iCloud library.
In addition, you can access Twitch, Spotify, Criterion, Vimeo, Crunchyroll, and many more apps too.
You can play some games on your TV too, as the new A15 Bionic is a powerful chipset. You can play Rayman Adventures, Jetpack Joyride, Into the Dead, Mushroom Wars 2: Tower Defense, Crossy Road, 2048, Alliance: Air War, Hungry Shark Evolution, Asphalt 8: Airborne, Real Racing 3, Jetpack Joyride, and countless other games. All of them are free to download with in-app purchases.
Final Verdict
Apple made the best streaming device across the globe even better with upgraded hardware and lowered price. The $50 lower price makes the Apple TV 4K more comeatable and accessible than ever.
Ethernet connection is faster but it makes you pay $20 extra unlike other streaming devices like Roku Ultra (2022) and others.
If you have a previous Apple TV and have purchased last year's Siri remote, then there is no need for the upgrade. You already have a powerful streaming device. If you are running out of space, then only you can consider upgrading as the new Apple TV 4K (2022) comes with doubled 64GB storage.
Those who are using Roku, Chromecast with Google Tv, and Amazon Fire Tv, if you are thinking of an upgrade and you have some money. Then the Apple TV 4K (2022) is worth buying. You will love its top-shelf performance and clean experience.
You just need to buy an HDMI cable.