In this current age, financial institutions are operating through digital platforms and incorporating online transactions, and helping out clients to do their payments and transactions in a convenient way. Same as this documentation also got a way that they are now stored in computer databases and left behind all manual ways of verification. To accommodate this digitization, the OCR scanner app is contributing to extract and scan the data from documents. According to the statistics, the market value of OCR technology is estimated to reach 26.31 billion dollars by 2028, because OCR scanners have become very common amongst digital businesses.
Why is OCR Technology the Need of the Hour?  
The advancements in digital services make them smart and working from home does not affect their daily tasks. However, it accumulates the competition between organizations, as well as increases the uncertainties of financial crimes and identity theft. In old times, the data was extracted from documents and the data entry required a lot of time, and officers had a job to perform manual checkings. However, the application of the OCR recognition app permits the companies to perform these methods automatically and redeem the time efficiently. OCR apps use AI and machine learning algorithms to subdue human errors, as a bulk amount of data is investigated simultaneously. Nevertheless, the OCR helps to substitute the massive scanners and other hardware means that were practiced in previous times and provide facilities in regular used devices like mobile phones.
 How are OCR Technology Functions? 
OCR scanner app is different depending on how and when they are organized but the motive is common. For instance, the technology of mobile is the same for everyone but all companies manufacture them in a different way. All OCR contributors use character recognition technology to form their own document verification version.
OCR scanners use mobile cameras to capture the pictures of the documents and then extract the concerned data from them. Predefined algorithms are also being used in it to find out and break the white spaces and the characters into different entities, and read characters calmly one after another. Furthermore, the notable letters and numbers assign their metadata and associate with predefined fonts and templates with high accuracy. This technology for document authentication also permits the extraction of cursive handwriting. By using this OCR scanner app, the difference between numbers and letters can be distinguished, as well it checks the characters in the surrounding of each letter or a word to examine what makes much sense in a particular sentence.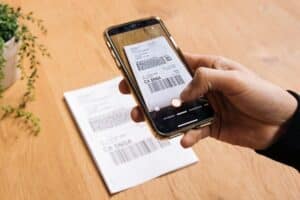 OCR Document Authentication
OCR Scanner app is an efficient technology that provides businesses to read and capture data from any hard copy.
1. Unstructured Documents
Unstructured documents are those documents that do not have a pre-established template and have a very poor standard. Sometimes the important data and the date are written in the wrong pattern and it becomes hard to analyze the whole document. Nevertheless, the OCR recognition app is now proficient in the detection of characters even in these types of documents.
2. Structured Documents
On the other side, we have the documents that are generated using installed templates, and proper structures are called structured documents, which include identity document verification that are issued by authoritative organizations, credit cards, and utility bills.
3. Semi-Structured Documents 
The documents which are not generated according to a specific template, but are transparent and simple to read are semi-structured documents, which often include purchase orders and receipts from shops.
OCR Technology In Banking
The basic requirement of the OCR is in the banks as they have a lot of paperwork that needs to be conducted quickly. OCR services can easily distinguish the data from documents and automatically insert the data into their digital systems. One of the most frequently used applications is the ATM, which also practices OCR document scanners to identify the credentials on payment slips and operate according to it. Moreover, cheques can also be verified conveniently as compared to traditional reading and inserting the data in the computer by using efficient OCR apps.
Final Thoughts
Concluding the whole conversation, it is assumed that paper documents are not acknowledged as a means to communicate and administer processes, the OCR app needs a constant progression in technology to combat the speed of digital methods. With AI and consistent intensifications, the OCR scanning app has considerably helped in automating the process of document verification.
Stay Connected with us!