Data has had an essential place since the earliest times, but with the developing technology, having a lot of data means having great power. This power allows you to drive people's ideas, grow your company further, and make your brand more visible. States, companies, and influential brands all produce new and effective methods to get different information about people.
There are many different types of data collection methods, and their usage areas are separate. Each method has its own advantages and disadvantages. In this article, you will learn about different data collection methods and how to use them to your advantage.
What is data collection?
The information gathered about any subject you can think of is called data. This data can be used for many different purposes in different fields. Gathering such an important power can have certain difficulties, so many different methods are used. Data collection is like an information basket obtained as a result of research on a certain subject.
You can use this collection for market research, lead generation, and even political elections.
If you want to get a more successful result in your work, using these data collections will lead you to results faster. For this reason, it will be better to use various methods together to maximize these data collections' impact.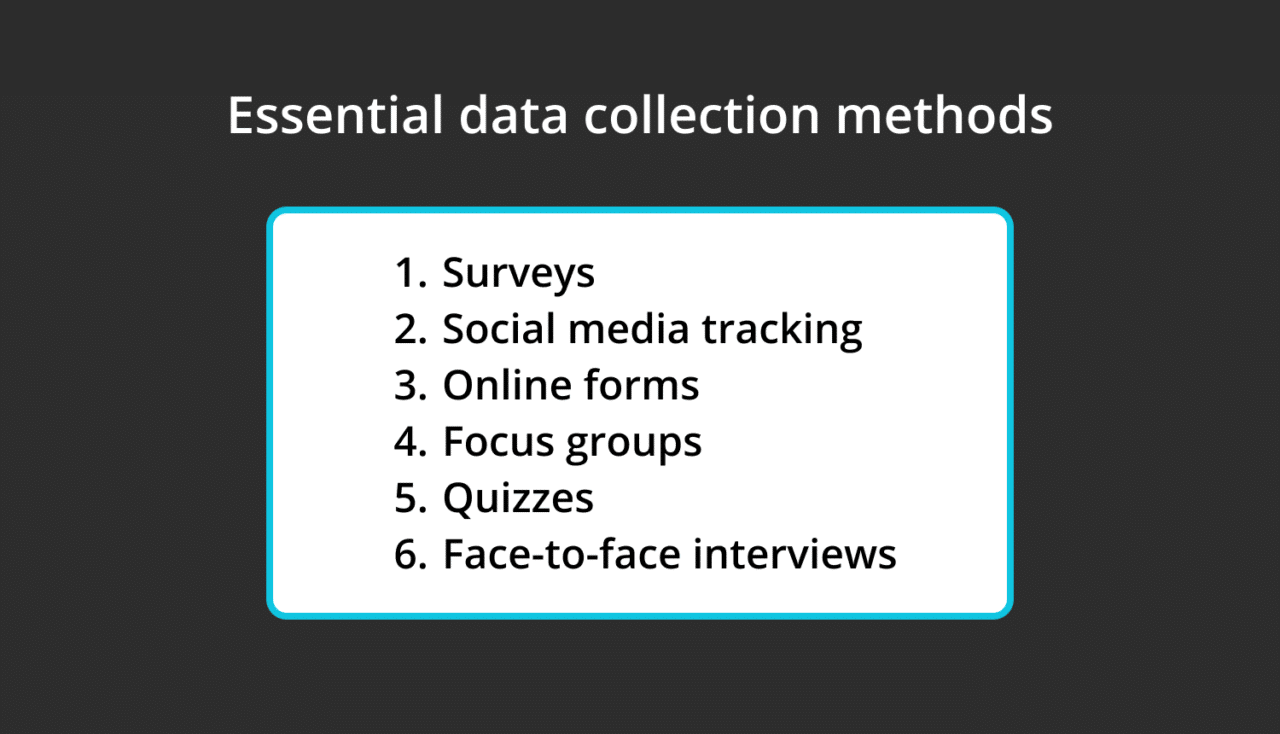 6 essential data collection methods
As with every method, there are some benefits and detriments of data collection methods. In general, these methods are divided into two, which are qualitative research and quantitative research. There are some features to consider when choosing the most suitable one for you. For example, there are some points you should pay attention to in advance, such as having enough employees, the amount of your budget, and how long time you have to get results.
1. Surveys
Surveys are one of the first quantitative data collection methods that are widely used by many people, both in terms of price and in terms of reaching large audiences. Although surveys were mostly done with paper, a more traditional way in the past, it is now possible to reach thousands of people without wasting paper through online survey makers.
Thanks to online survey maker applications such as Jotform Survey Maker, and creating surveys is much easier and faster. There are some essential survey types to gather information, such as product research surveys, market research surveys, and customer satisfaction surveys. With the help of these survey questions, many brands and companies comprehend whether they have shortcomings and how they can produce a solution to these problems. 
2. Social media tracking
Social media has become a part of life not only for young people but also for the elderly. For this reason, companies are very curious about how people use social media and what they are affected by when buying something. In this way, companies can easily understand which product/service people are more interested in.
Almost all social media platforms control and report the movements of their users. In addition, you can see how many people watched the post you shared, how many people liked it, or whether the post was sent to someone else. One downside of social media tracking is that you can't be sure if your posts reach the audience you want. For this reason, it is more difficult to get useful results in data collection.
3. Online forms
One of the most common data collection methods is forms. Forms can be used in forms both modern ways and traditional ways. However, online forms are preferred because they are more secure and accessible. Thanks to the free ready-made templates offered by online form builders, you can create your own form on any subject you want in minutes.
4. Focus groups
Focus groups are one of the qualitative data collection methods, and people are gathered in one room and asked specific questions. These questions are usually about products/services, and each person in the room is expected to present a different opinion. It helps to collect qualitative data, and open-ended questions are generally used in order not to lead the participants' ideas.
People are asked to brainstorm, and these ideas are important to make the business better. Focus groups generally are not popular among research methods due to their requirements. People reach fewer audiences and cost a lot of money with the focus group method.
5. Quizzes
Probably one of the most entertaining and interactive methods of data collection is quizzes. Quizzes are essential methods, especially for lead generation. Many quiz makers offer varied question types such as single selection, multiple choice, and rating scales. With these questions, you can keep quiz takers' attention alive and generate many leads.
6. Face-to-face interviews
The face-to-face interview is another important data collection method. This method is actually not much different from other interviews because the interviewer prepares questions prepared on various topics and asks the respondents. The purpose of these questions is to learn about the consumption habits, preferences, demographic information, and product ideas of the respondent.
Since these interviews are conducted one-on-one, consumers are more inclined to express their own free thoughts. In addition, you can easily obtain information such as consumers' loyalty to the other brands, why they prefer brands, and how often they shop.
Combining quantitative and qualitative methods
You may be confused after learning these 6 different data collection methods. You should know which method will bring a more successful result for your own research. Almost all methods have both pros and cons; for this reason, using two different methods together will make your result more effective. Using two or three different methods together in accordance with your budget and your employees will provide you with data that will help your company grow.
Qualitative research and quantitative research ask respondents various questions. For example, quantitative research questions provide more precise and numerical data through yes/no questions and single selection questions. On the contrary, qualitative research questions should be reviewed by a person because these questions are generally interpreted. Open-ended questions are one of the most used question types in this research, and although it is difficult to obtain information from these questions, they give very accurate results.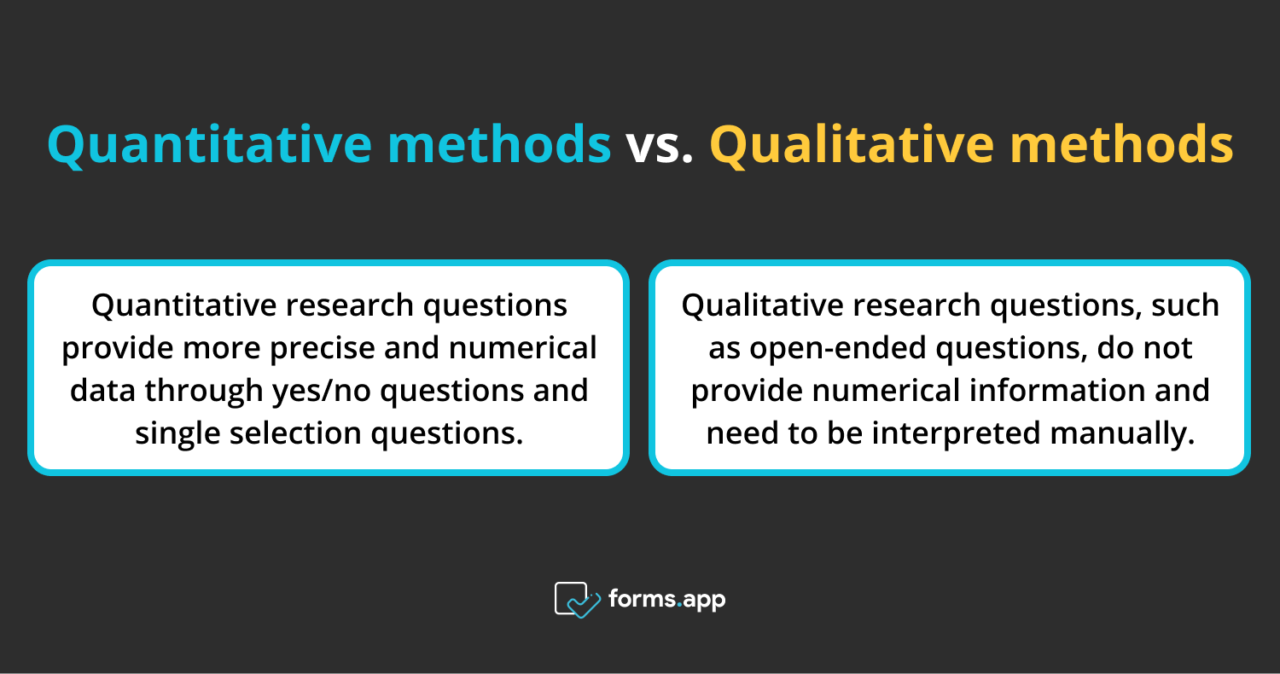 Conclusion
To summarize, data means power, and everyone needs this while growing their businesses. There are numerous ways to collect data, and choosing the most suitable method according to your aim has an essential role. These methods are divided into qualitative and quantitative. Some require a lot more money and effort, while others reach more people through online surveys, forms, and quizzes.
You can create surveys, forms, and quizzes with online form builders, which are more accessible with online applications. Furthermore, with the pre-made templates, you do not need to think about the questions. You can add or remove questions according to your research and customize your forms, surveys, and quizzes as you wish. By combining various methods with each other, you can get the best results in your research.