Those were the days when DVD collectors invested a lot in filling their shelves with their disc collections. Now portable devices excel these DVD lovers to shift their DVD shelves into digital formats.
Shifting DVDs content to digital formats can provide several benefits, such as freeing up physical space in your home and enabling you to access your favorite content from any device with an internet connection.
There are multiple ways to convert your DVD collection to digital form, and here we have enlisted the top 3 DVD to digital converters of 2023;
3 Easy Ways to Convert Your DVD Collection to Digital Formats
1. DVDFab DVD Ripper
DVDFab DVD Ripper is the top priority selection to rip and convert any secured DVD to more than 1000 digital video and audio formats. It will never compromise on quality and smoothly play output on all devices and media players.
The program will let you easily digitize all your homemade and commercial copy-protected DVDs, regardless of whether they are physical discs, ISO image files, or folders. DVDFab automatically handles the decryption of the disc, detecting any anti-copy encryption on the disc.
Key Features
DVDFab DVD Ripper is an exclusive program to handle newly released DVDs with copy-securities.
The program supports to convert DVD to MP4, MKV, AVI, MP3, and other 1,000+ video and audio formats. The digital output can be enjoyed on 260+ preset devices.
Moreover, users can maintain the video and audio quality, resolution, codec, bit rate and frame rate according to their preferences.
You can cut, combine, rotate, change brightness or others to your videos.
Pros
The program performs best by digitizing multiple DVDs simultaneously in multitasking mode.
DVDFab DVD Ripper offers several options for handling subtitles, such as rendering them directly to the video, remuxing them into a file, and extracting them to an IDX/Subfile or an SRT file.
The GPU acceleration provides a 50 times faster DVD converting speed.
The Enlarger AI module will work to enhance video quality from 480p to 1080p.
Cons 
The free trial offers 30 days and has feature limitations. But DVDFab offers a totally free version called DVDFab HD Decrypter, which is able to rip encrypted DVDs or Blu-rays released one year ago into MP4 or MKV format only.
How to convert your DVD collection to digital formats using DVDFab DVD Ripper?
Step 1: Download and install DVDFab DVD Ripper and upload your DVD.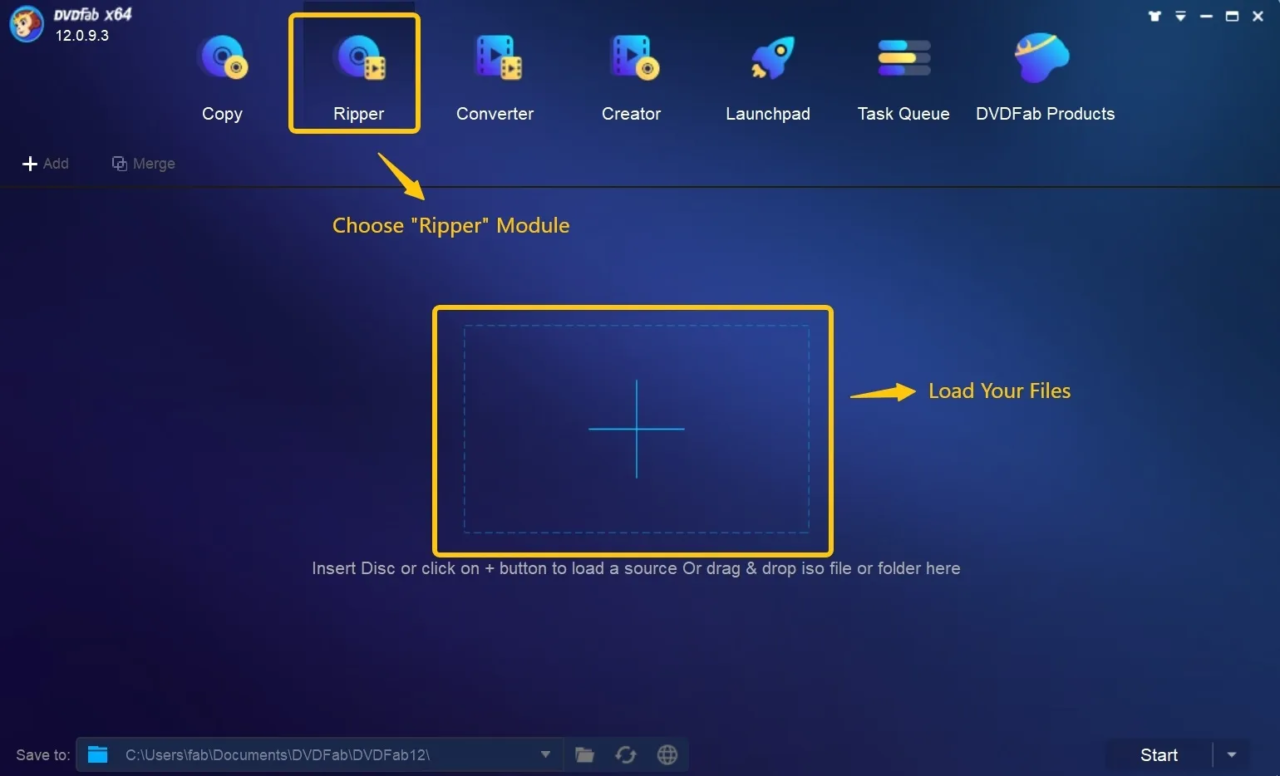 After downloading the DVDFab, launch the program and click on the "Ripper" option. Click the "Add" button to upload your DVD or insert it into the optical drive. The "Drag & Drop" feature is for the ISO file or folder source.
Step 2: Select one profile and personalize your DVD.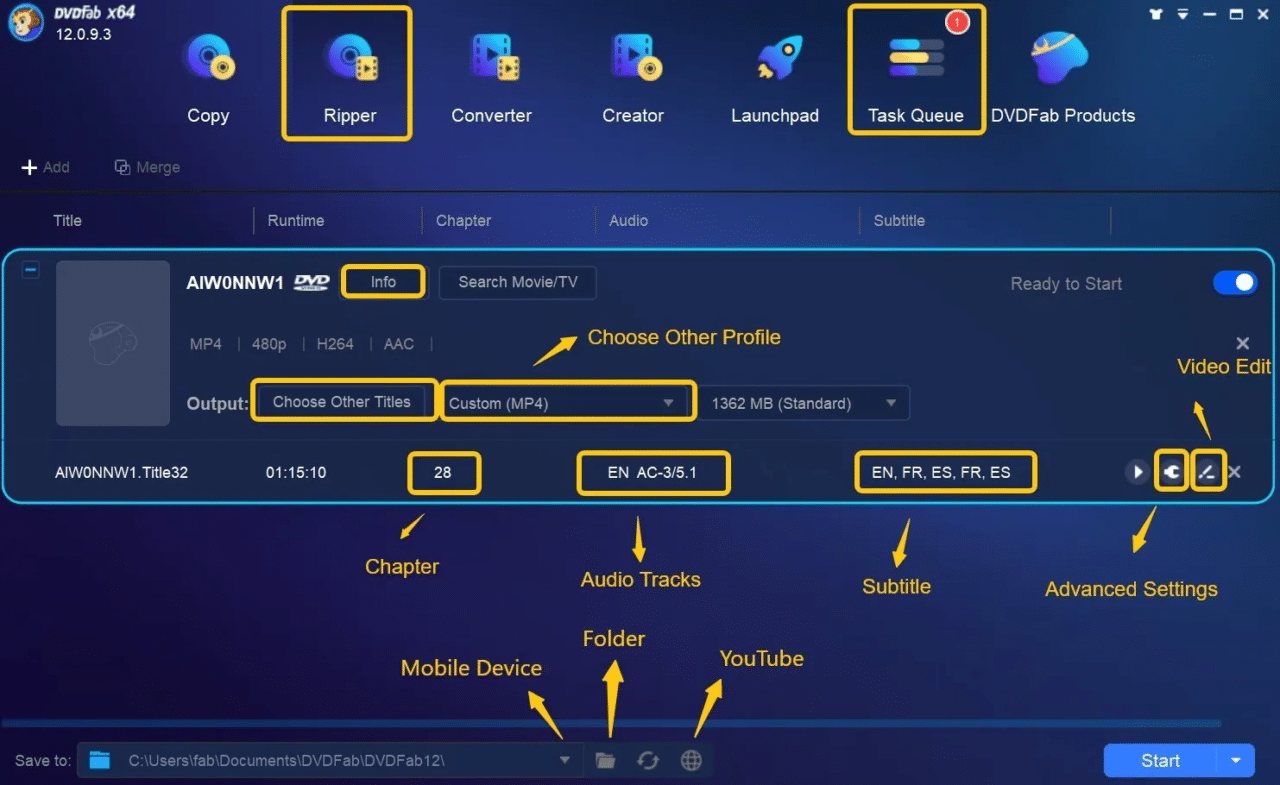 Now click the "Choose Other Profile" option and select the desired video format. Here, you can see the options for converting your DVD to MP4 and other formats. Click "Choose Format" and "Subtitles" to extract subtitles in SRT format. Tap on the "Wrench" symbol to access "Advanced Settings".
Step 3: Start ripping DVDs quickly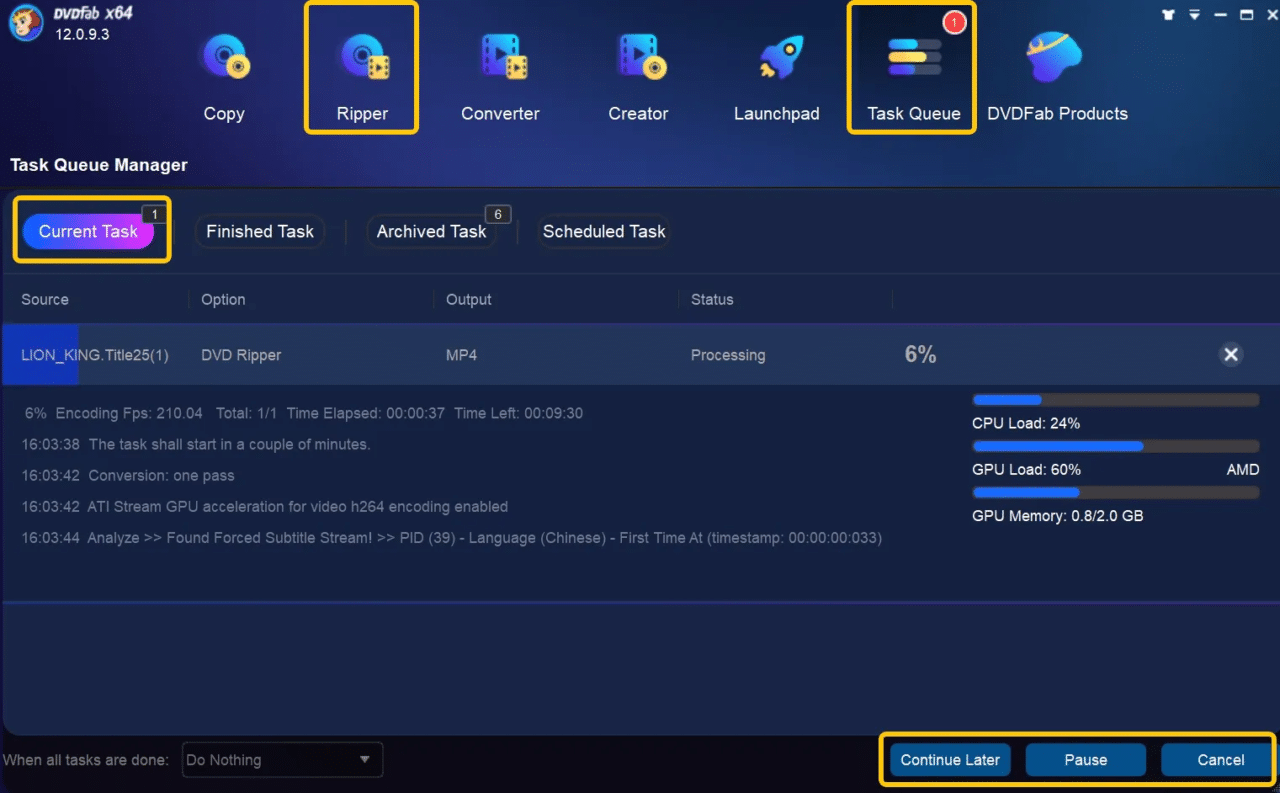 In the final step, save your output file to the desired location in your device or upload it directly to YouTube and then hit the "Start" button. The program will also display the progress of the process.
2. Handbrake
Handbrake is another free DVD converter for Windows, Mac, and Linux. Generally, the program cannot convert copy-secured DVDs; however, if you install libdvdcss, you can burn CSS and region-locked DVDs to MKV and MP4.
Pros
You can shift any video to MP4, MKV or WebM.
It is best to back up old and low-quality videos.
Cons
It cannot combine multiple videos in one.
It cannot handle copy-protected DVDs.
How do you convert a DVD with a Handbrake?
Step 1: Open the program and click the "Open-Source" button to access your DVD.
Step 2: And if you have a copy-secured DVD, you need to ask VLC to detect and pick the title of the DVD.
Step 3: Access the Presets drop-down from the default video editor and choose MP4 or MKV format.
Step 4: Save your file and click on the "Start Encode" button to start ripping it.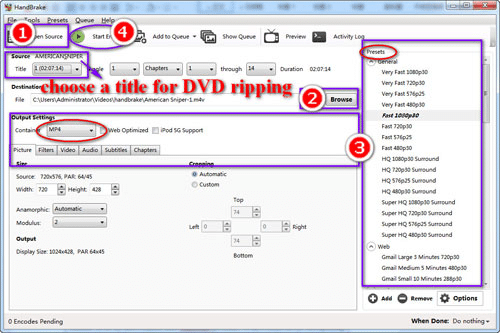 3. MakeMKV
This is our third most popular DVD-ripping program. The program only supports the MKV format that many other programs do not offer. MakeMKV is compatible with Windows and Mac OS and welcomes Blu-ray discs secured by AACS and BD+. After detecting the DVD, the program displays detailed notes so you can select the preferred titles and chapters.
Pros
You can upload your DVDs in three ways: from your DVD drive, VIDEO_TS folder, and ISO file on your HDD.
While ripping DVDs or Blu-ray discs, all video and audio tracks, chapter information, and other meta information will be preserved.
Cons 
The program shifts DVDs and Blu-rays to only MKV formats.
It cannot handle the newly-released encrypted DVDs
How do you convert DVDs to digital formats with MakeMKV? 
Step 1. Download and install MakeMKV and upload your desired disk. The program will quickly scan it.
Step 2. Choose the preferred content for the digital copy.
Step 3. Select the desired output folder and click the "Convert the DVD to an MKV file" option.
FAQs
Why is digitizing DVDs important?
Digitizing DVDs is helpful in many ways, and some of them are given below;
Disks can only work on some DVD players, but converting them will let you enjoy them on all media players.
Besides, it's not easy to carry a DVD shelf anywhere, but if your movie is in digital format, you can enjoy it anytime and anywhere without a DVD collection.
Moreover, DVDs are more at a damaging risk; however, digital media is more secure than physical.
Digital formats are more space-free than DVDs; you don't need to clean them daily.
Which digital format is more popular for DVDs?
Lossy MP3, AAC, OGG, WMA, Lossless FLAC, ALAC, Uncompressed WAV, AIFF, DSD, and PCM are the best video formats. If we talk about audio formats, we can see MP4, WebM, MOV, AVI, MKV, WMV, AVCHD, FLV, MPEG-2, MTS, MPEG-4, etc., on-trend.
Conclusion
There are numerous DVD-to-digital converters on the internet, both free and paid. Our list introduces all free DVD converters at the top in their specifications and performance. If you want to experience diverse tools and features in one program, you can go for the DVDFab DVD Ripper.