Men can showcase both their style and personality through the beard styles they embrace. You can style your beard for a unique and outstanding appearance in so many ways. It is important to understand that your facial hair's shape and natural growth pattern play an important role in the style that works best for you.
It is always good to seek advice from an expert on the style that will best work for you. You can also explore the different options every time you visit the stylist until you get the most comfortable style. Explore some of the top choice beard styles for most men in 2023 below.
1. A Full Beard
This is the most suitable style for men with no problem growing facial hair. It is the beard to run to if you want to express a lot of sophistication and personality.
The beard is generally dense, and it may not work for men who do not have a lot of facial hair naturally. To conveniently develop this outstanding beard style, the hair must be full on the jawline, cheeks, and chin.
For full beard styles, it is a requirement that the men practice proper care and maintenance to keep the hair neat and sleek. You should get regular trims to keep the hair defined to avoid overgrowth, which may make you look untidy.
The full beard will get the attention you deserve and give you the mature appearance most men prefer. The full beard also elaborates on your facial structures better.
You should consider styling the beard depending on the shape you want. It is important to get a skilled stylist to ensure the whole style runs smoothly.
2. Goatee
This is the go-to style if you are looking for a more polished and sleek look. It can be described as growing facial hair on only the chin and maintaining the hair very neat and with a well-defined shape.
You can get the expert to customize your goatee to fit your preferences; whether you like a small or an extended goatee, the stylist should be able to deliver to your satisfaction.
A goatee is the best style to achieve a more defined and perfect jawline, especially for men with masculine facial features.
The goatee is versatile as it suits different hair types and facial structures. It is also a contemporary style for men that have very defined hair on their chin.
3. The Circle Beard
This style combines a net mustache and well-defined hair on the chin. The name is derived from the shape this beard style takes after a clean and sharp trim.
The circle beard is one of the perfect beard styles if you have less facial hair. Concentrate around the chin and the mustache. It also gives a clean and polished style, making it suitable for casual and formal appearances.
It is important to regularly trim the beard to keep it looking clean and maintained. The circle beard helps make your facial structures more defined.
4. The Corporate Beard
As the name suggests, this is one of the most professional beards you can try. It is most suitable for formal occasions, especially the workplace. This beard style is considered official because it is mostly neat and sharply groomed.
The definitive features of the corporate beard include defined shaping and sharp edges for a tidy appearance. It is most common for men who want to keep their facial hair and are in strict professional fields.
This is the go-to style if you are looking for a professional style while embracing a touch of confidence.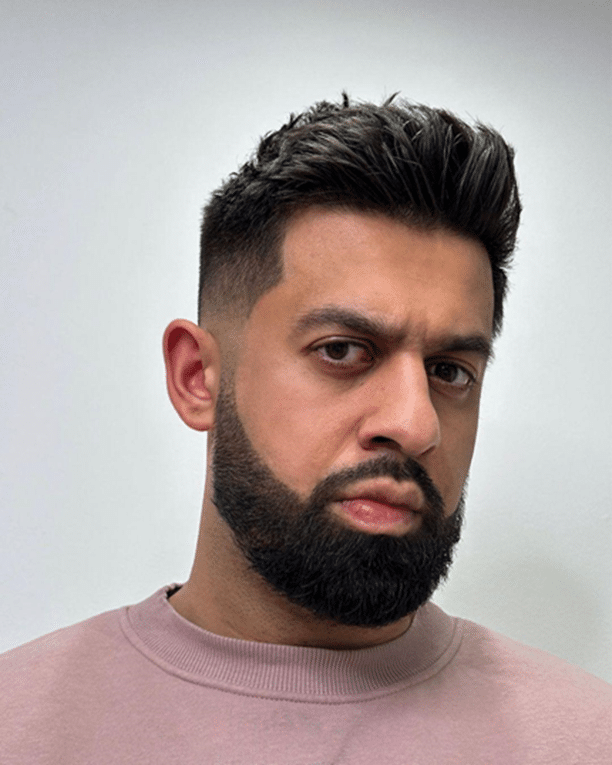 5. Balbo Beard
This is the perfect combination of a mustache, a disconnected beard, and a soul patch. The beard style is versatile and fits a variety of face shapes. It is very common with men who appreciate staying connected to trends in fashion.
The beard style gives a touch of individuality and is suitable for all types of facial hair. It requires regular trimming for a sharp, neat appearance to showcase creativity.
The Balbo beard perfectly expresses modernity and connection to style and fashion. This beard style can easily be achieved if you can comfortably grow a full beard.