Indian film star Ravi Teja is a household name because of his many roles in the Telugu film industry. On January 26, 1968, he entered the world at Jaggampeta, Andhra Pradesh, India. Telugu cinema actor Ravi Teja, real name Ravi Shankar Raju Bhupatiraju, is a huge star dubbed the "Mass Maharaja" due to his immense popularity. Teja is among the highest-paid actors in Telugu cinema and South Indian film.
On January 26, 1968, Ravi Teja was born to Raj Gopal Raju and Rajya Lakshmi Bhupatiraju. His father was a pharmacist in the Andhra Pradesh hamlet of Jaggampeta. Raghu and Bharath, two of his brothers, are also actors. Raghu has played the lead in a few low-budget Telugu films, whereas Bharath is more known for his villainous performances and has appeared in films with Ravi.
Some Interesting Facts About Ravi Teja's Life
Ravi Teja spent much of his childhood in Northern India, where his father worked. His education took him from Bhopal to Delhi to Mumbai to Jaipur. Teja attended the NSM Public School in Vijayawada, where he graduated. He attended Siddhartha Degree College in Vijayawada, earning a Bachelor of Arts.
Ravi, who grew up idolizing the actor, once attempted to skip school and journey from Jaipur to Mumbai, searching for Amitabh Bachchan and a film career. In 1988, he followed his calling and left college in the middle of his senior year to pursue a career in the industry in Chennai.
As of 2023, Ravi Teja's age is 55 years old, and he is well-known for his exciting on-screen persona and energetic performances. He has a massive fanbase (2 Million followers on Instagram) because of his status as perhaps the greatest actor working in Telugu films today. He has also made a name for himself in the charitable and social justice sectors.
In 2002, Ravi Teja married Kalyani. The couple has two children named Mahadhan Bhupatiraju and Mokshadha Bhupatiraju. Ravi Teja is one of the highest-paid actors in Telugu movies.
Ravi Teja's height is 5′ 10″ (1.78 m), and weighs about 70 kg, was named one of the world's 100 highest-paid celebrities by Forbes in 2012. Ravi is not just the official spokesperson for Lunar in Andhra Pradesh and Telangana, but he also made it to number fifty on our list! Ravi has a consistent comedic presence in all of his movies.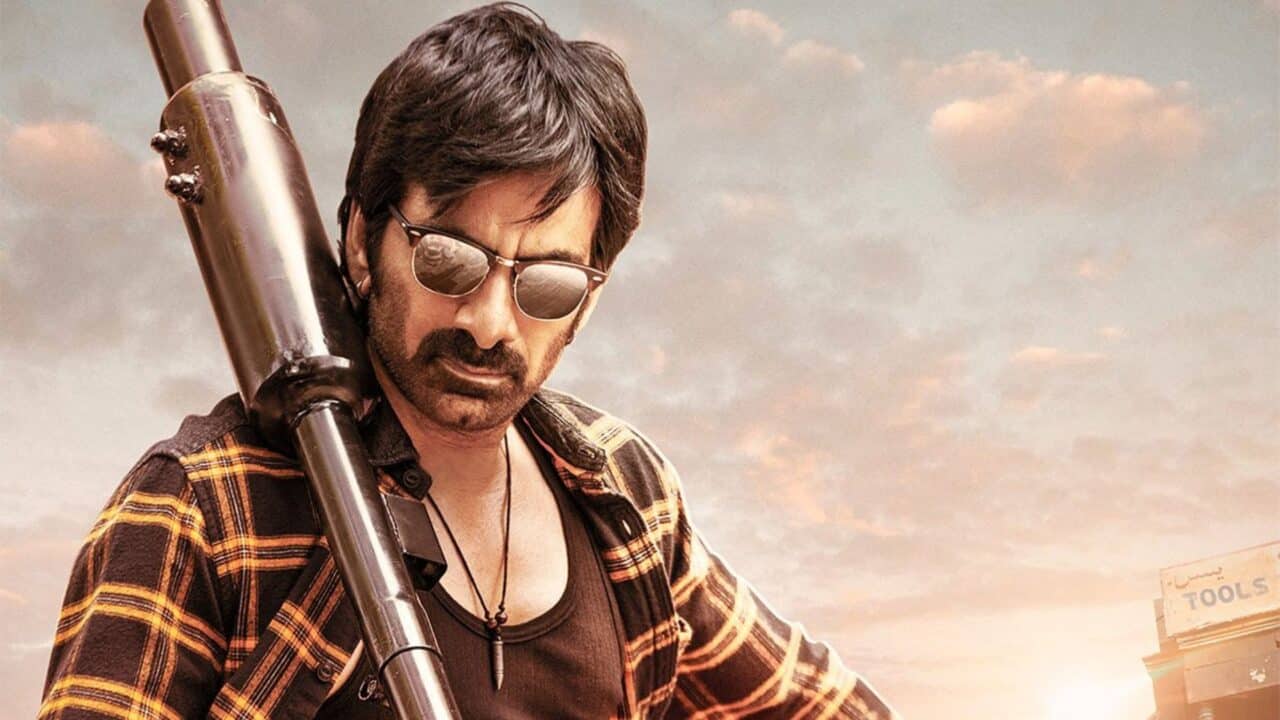 Ravi Teja's movies
The 2001 Tollywood film "Itlu Sravani Subramanyam" was when Ravi Teja's debut in the industry. The movie did well at the box office. Avunu Valliddaru Ista Paddaru (2002), Idiot (2002), Khadgam (2002), Amma Nanna O Tamila Ammayi (2003), Bhadra (2005), Vikramarkudu (2006), Dubai Seenu (2007), Krishna (2008), and More are just a few of the subsequent critically acclaimed films in which Ravi Teja has starred.
As soon as "Kick" (2009) was released, Ravi Teja became a household name thanks to the film's critical and economic success. His stardom skyrocketed after starring in a string of box office successes, including Shambo Shiva Shambo (2010), Mirapakay (2011), Balupu (2013), Bengal Tiger (2015), and Raja the Great (2017).
In addition to Amar Akbar Anthony (2018) and Disco Raja (2020), he has a few additional film projects. His album Krack will be released in 2021. Khiladi (2022), Ramarao On Duty (2022), Dhamaka (2023), Tiger Nageswara Rao (2023), Ravanasura (2023), and Waltair Veerayya (2024) are some of his other significant works.
Also read – Allu Arjun's Net Worth In 2022, Assets And Career
Ravi Teja's Net Worth Depicts His Handwork and Passion
Ravi Teja's net worth is around 135 billion Indian Rupees. He makes most of his money through movie roles and sponsorship deals. To calculate her wealth, we must examine her primary holdings.
House: Ravi has a magnificent mansion in Jaggampeta. This real land is worth about 16 billion Indian rupees ($3 million). Several pieces of rural real estate are also in his possession.
Cars Collection: Ravi's collection of high-end cars includes a Range Rover Evoque, a Mercedes-Benz S Class, and a BMW M6.
Average Movie Remuneration: Ravi Teja receives 5–6 Crore for every film in addition to a profit share.
Brand Endorsement: Ravi Teja is the face of several companies, including For Lord & Master Brand and Lunar Footwear. For a brand endorsement, he wants 2 crore rupees.
Ravi Teja: A Talented Influential Personality
As a leading man in the South Indian cinema business, Ravi Teja can indulge in his extravagant tastes lavishly. In addition, he has made several property investments that will contribute to the future expansion of Ravi Teja's net worth. He made his acting debut 22 years ago, and he's since appeared in 28 films. He basks in his status as South Korea's biggest movie star because he gives his audiences exactly what they want. In the Telugu film industry, Ravi plays both roles of actor and producer. Ravi is one of the highest-paid actors in the world due to the record-breaking success of his flicks.